With Ronan O'Gara's career seemingly winding down, It's time to look at the pretenders to his throne on the bench of the Irish squad.
With the wolfhounds showcasing all three on the pitch at once before the start of the 6 Nations, it seems like a great place to start. I will also look at recent performances from each during the 6 Nations for their province.
Paddy Jackson is the only one of the three that seems to have cemented his place for his provincial side, and therefore seems to be ahead of the other two (rightly or wrongly, it's sound logic).
A clear indicator for how I think they should be ordered came when all of them were on the pitch against the Saxons. Jackson at 10, Keatley at 12 and Madigan at 15. At least in theory, those were the positions that they were meant to play.
Madigan seemed to want to be first receiver, and demanded the ball at every occasion. He also took over kicking to the corner duties. When the chance came to step up and take responsibility came (as would be expected from a ten), Madigan wanted it more than Jackson or Keatley.
In terms of their respective talents, Jackson sits very deep behind the gainline, has a decent eye for a kick to touch, with a respective pass. His goalkicking hasn't been impressive, with Pienaar taking over the duties midway through the season. He seems to have leadership qualities, with captaining the under 20s at last years 6 Nations. Although what was more indicating was the upturn in the 20's fortunes when Jackson didn't feature in the JWC.
Jackson impressed me on his debut. He showed me a lot in open play that I didn't think he was capable of. This makes me a lot more comfortable about him in the future. He deserves to keep his place for the French game.
Madigan is a bit of a flaky character. Ever since I've seen him in schools rugby, I've thought his temperament was poor, he has a habit of choking, and is not a good placekicker. Maybe that's just me being a "little" bias. But he looked the least likely of most academy graduates to make it. I've watched him feature through the years, displaying the poor goalkicking, but not being given a chance in many games to show whether he can handle the pressure now. His attitude has been questioned in the past, in a similiar way to Andrew Conway.
However, this season in particular, Madigan has shown a natural running game, and has one of the most wonderful passes a flyhalf has ever seen. He has a tendency to go for running options that aren't on, but while this is receding, at least he has the cajones to go for it. He has shown a willingness to improve and is capable of some piece of magic - something which Jackson, for all his solidity, doesn't look like doing.
He has shown improvements in goalkicking in recent seasons which is encouraging, but is still behind Keatley, and has shown a significant improvement on defence too.
Ian Keatley however seems the best goalkicker of the three, based on his percentages. Learning under O'Gara means he will learn how to control the game and kick for the corner, but he seems to natural want to run and pass it.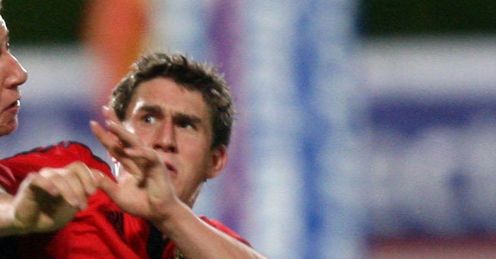 One thing that strikes me about Keatley is that he is very inconsistent. He has games like the one against the Wolfhounds, or when he came on against Edinburgh in round 5 where he is ineffective and has no bearing on the game. He lets other backs come into first receiver too often.
Then when I start to form this opinion of him, he plays like he did against Racing Metro in round 6 (albeit against a poor Racing side), where he was everywhere, creating and pulling defenders each way and was one of Munsters best performers.
He hasn't been getting the opportunites for Munster recently as O'Gara has been battling to remain in the squad and this has counted against him. I fear he may have missed his opportunity as the oldest challenger between these three.Next season will be huge for him and he needs to become Munster's no 1.
Bottom line; Jackson gets most game time, but is limited. He's shown some glimpses of more attacking prowess recently, but needs to work on it and will probably prove me wrong. Keatley is too inconsistent and more likely to be bad than good, and Madigan creates more, but question marks over attitude and bottle.
Madigan seems the best of the three in my mind; but with even younger stars Stuart Olding and JJ Hanrahan coming through, he may not be best for long.