Ciaran Burke of (
@burke_cb
) takes a look at the options for Ireland going forward until the World Cup in 2015.
As Ireland's 6 Nations season comes to an end against Italy this weekend ,we seem to be left with a lot of questions;
Yes, we have blooded some new talent to test rugby, but in many people's opinion it's too little too late for this management team.
So as our attention will undoubtedly turn to who will take over the international reigns or will kidney get another crack at the task ahead, I've decided to look into my crystal ball and pick a panel for the World Cup in England in 2015, ill also try and look at who can make the step up to test rugby and look at who can lead us there.
By the time the World Cup comes around chances are that D'Arcy and Drico will probably have retired and with O'Connell, Ross and others close to facing the same decision. O'Connell has stated that he would love to be part of the next World Cup and with his aura as a leader of men within the team,it would be key for management to know he is on board.
Heaslip should captain the team, as I feel he is growing into the role. That's not to say that come 2015 the management won't have the luxury of being able to call on guys like Kearney, O'Connell, O Brien , Sexton and Best to step up to the plate if needed.It is only to the benefit of the team that we have guys with the experience and leadership qualities to help with the integration of young players. For example, for Marshall and Jackson to have Drico and to a lesser extent Murray beside them and to guide them in their first tests must have been a great help ,and they will only benefit from this.
The only players I see as definite starters would be Kearney, Bowe, Sexton, Murray, Healy, Best, O Connell and the back row that started on Sunday against France.
FULLBACK:
Contenders; Kearney (29) Payne(29/30), Henshaw (22), Jones (28), Earls (28), Zebo (25).
Kearney is a definite starter unless form nosedives, his leadership and dominance in the air can not be underestimated., The fact that Earls and Zebo have played there at certain times adds to their versatility but I feel their services can be used better elsewhere . Ulsters Jared Payne for me looks the real deal and could genuinely put Kearney under pressure. Jones is yet to reach the heights of 2011 before he got injured on the eve of World Cup. Henshaw has impressed me this year at full back but some feel he is better suited to centre. He is young and I think he has a bright future ahead.
COMING UP THE OUTSIDE:
Munster bound Andrew Conway , Ulsters Ricky Andrew and U 20's Darragh Leader seem to be the pick of potential full backs; yet Conway has plenty of pace so he could yet be slotted onto the wing.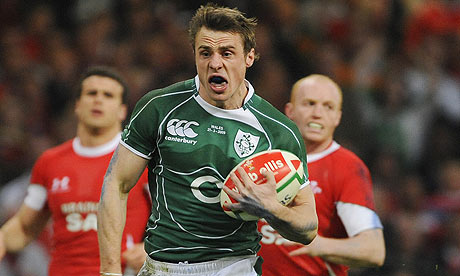 WINGERS:
Contenders: Bowe (31), Zebo (25), Luke Fitzgerald (28), Gilroy (24), Trimble (27), Earls (28).
Bowe is a starter and with his pace and ability in the air its fair to say he is one of the best wingers around. Zebo was the talk of the rugby world a month ago until injury slowed his progress, and with the so called X factor is sure to become a top class winger, that's why id include him on the other wing, remembering that he can also slot into full back. Backup would be Gilroy and Fitzgerald, with Fitzgerald an option to cover centre. Trimble is a good defender but at international level offers little in attack.
COMING UP ON THE INSIDE:
O'Dea has serious pace but needs to knuckle down to get game time, Conway is another guy who could do well on the wing. O'Halloran at Connacht also deserves a mention.
OUTSIDE CENTRES:
Contenders: Earls (28), Cave(28),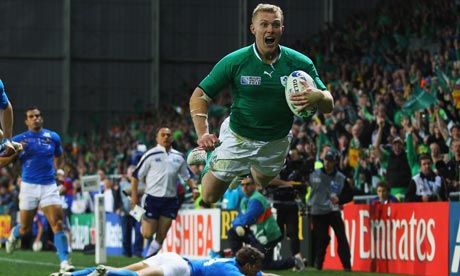 Unless they clone Drico, 13 is harder to call. Earls is the front runner to replace Drico but in my opinion Earls is a better winger,anyway It's a toss up between Earls and Cave but I'd go Earls with Cave as cover.
COMING ON THE INSIDE: Munster's Barnes showed early promise but has yet to reach the highs of Munster's last Magners win when he played a key role. Ivan Dineen has looked sharp, and Eoin O'Malley at Leinster has the talent but maybe needs to bulk up. Eoin Griffin has done well at 13 for Connacht. Daly has been doing the kicking for the u20s from centre and was flawless against France so he could be one to watch in the future.
INSIDE CENTRES:
Contenders: Marshall (24), McFadden (29), Olding (21), Hanrahan (23), McSharry (25).
This is a though one to call. Marshall has stepped up against Scotland and France and looks to be there for the long haul, with McFadden as cover. McFadden has been knocking on the door for a while now and his form this year deserved better, he showed that form against France, so hopefully he can kick on. Olding, a promising young talent could be in the mix if he gets a run of games, but with Marshall ahead of him at Ulster it could be a World Cup too soon. Hanrahan also has the potential as does Connacht's McSharry
COMING ON THE INSIDE:
Ulster's Olding has showed promise at 12 but 10 or 15 could yet be his positions and it must be remembered he is still only 19.
OUTHALFS:
Contenders;Sexton (30), Jackson (23) and Madigan (26).
Sexton is a warrior and a leader that seems to get better and better with every year. Jackson as cover. Madigan could force himself into the reckoning by the time the World Cup comes around.

COMING UP ON THE INSIDE;
Hanrahan at Munster is a potential national 10 but with guys like sexton, jackson and Madigan ahead of them it wont be an easy task. Crosbie is playing 10 for the u20s but Daly has been doing the kicking so its hard to gauge him as of now but he looks a good player. Daly could make the grade, and has showed there is allot more to him than just kicking, but centre may be his calling .
SCRUMHALFS: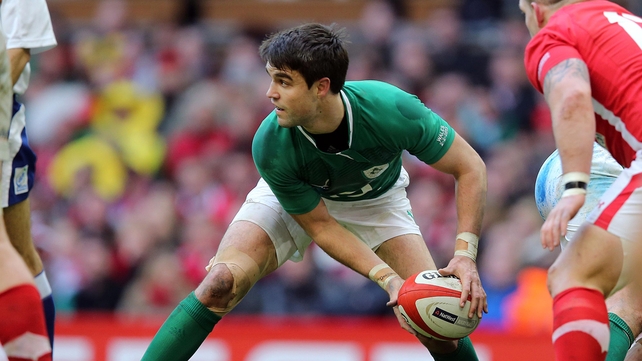 Murray (26), Marshall (30) and Marmion (23).
Murray to start and on the evidence of his performances this year he is developing into a top player. Marshall should get his chance as backup and offers something different. I feel its a must in today's game to have two 9's that can offer different things if the game plan needs to be changed .I think these two guys offer just that. I've been impressed with Marmion's form out west so nothing can be taken for granted.
COMING UP ON THE INSIDE; Watching the U20's this year I've been very impressed with McGrath, and the talk is that he is going to go on to represent Ireland in the future. Another player who has impressed is Sheridan at Munster .He has only played a handful of games, but to date looks to be able to make the step up.
FRONTROWS:
LOOSEHEAD: Contenders: Healy (28), Kilcoyne (27);
At loose head it's a case of Healy to start with Killer as backup. Healy has really stepped up in the last few years, excluding his brain fart against England, he has become the stand out loose head in the northern hemisphere.
HOOKER: Contenders: Best(33 ), Streuss(29), Cronin(29), Sherry(27);
Hooker will be Best with Strauss as cover, but don't rule out Cronin if his darts improve. Sherry could also come into the mix if his graph of improvement keeps its upward trend.
TIGHTHEAD: Contenders: Ross, (33), Archer(27), Hagan(28), Andress(31), Court(34), Fitzpatrick (32)
Now the big one; tight head, Mike Ross could be still around at the world cup as he will be around 35 and by no means over the hill; we don't have anyone really putting their hand up. I'd go with Hagan as backup. This is just an unknown . Archer is behind Botha at Munster but if given some game-time he could pass them all out. Archer has played well in the few games he has started so far and looks to be improving on last year. Andress is plying his trade in England which as Ross would know its not the worst place to learn your trade.
COMING UP ON THE INSIDE:
The Byrne twins have been the talk of Leinster underage for a few years, one at hooker and the other at tight head, Connacht's New Zealand-born captain, Nathan White has been scrummaging well at tighthead. Jack McGrath maybe one to keep an eye on at Leinster. Annett in Ulster has a great teacher in Rory Best so he could also be one to keep an eye on at hooker. It must be said that in scrummaging terms you don't hit your prime until mid to late 20s so hopefully some of these guys can be seen in green down the line.
LOCKS:
Contenders: Ryan (32), McCarthy (34),O'Connell (35), Denton (27), Nagle (28), Henderson (23), Tuohy (30).

If all are fit I would bring Ryan, McCarthy, O'Connell and Henderson. If Nagle can stay injury free and get a run of games I think he has the potential, as does Denton, to be there or there abouts, Tuohy didn't look out of place when he got his caps against the All Blacks and Australia, so he could also come into contention.
COMING UP ON THE INSIDE:
Andrew Browne and South African youngster Quinn Roux (who won't be qualified in time for the World Cup) could be ones to look out for. Dave O'Callaghan from Munster can play both back row and lock and has begun to get some game time so hopefully he can fulfill his potential.
BACKROW:
Contenders:O'Mahony (24), O'Brien (26), Heaslip (32), Ferris (30), Diack(30), Henry(31), Wilson(34), Ruddock (25), O Donnell (28).
Starters at the moment would be O'Mahony, O'Brien and Heaslip with Ferris, Henry and O'Donnell as over. This of course depends on what management want from their back rows, or if its a case of picking the best, and finding a place for them. Ruddock is a fine player and two years is a long time in development terms, so he could end up as a starter by then.

COMING UP ON THE INSIDE:
Conor Gilsenan at Leinster is been talked about as a future international 7, Ulsters Conor Joyce is another promising player, Ryan at Leinster has done well when played, but controversial as it is C.J. Stander in my opinion is the one player that has the ability to make the cut. Granted its early days and he could yet end up back in South Africa, but from the little I've seen of him it looks like a matter of time but won't make next World Cup as he won't be qualified by then.

My team: 15. Rob Kearney, 14. Tommy Bowe, 13. Keith Earls, 12. Luke Marshall, 11. Simon Zebo, 10. Jonathan Sexton, 9. Conor Murray; 8 . Jamie Heaslip, 7. Sean O'Brien, 6. Peter O'Mahony, 5. Donnacha Ryan, 4. Mike McCarthy, 3. Mike Ross, 2. Rory Best, 1. Cian Healy:

Replacements: 16. Richardt Strauss, 17. Dave Kilcoyne, 18. Jamie Hagan, 19. O'Connell, 20. Ferris, 21. Marshall, 22. Jackson, 23. Fitzgerald.