With South Africa announcing their squad for the November internationals, it means all of the top 13 nations have shown their hand. Most, like South Africa, have gone with experience in the hope of continuing on their winning streak, while others, like Italy, have brought an infusion of youth into their squads.
1. Mark Bennett (Scotland)
I may have mentioned Mark Bennett
before
. A few times perhaps. There is a reason for this. Having Clermont Auvergne on your CV is no mean feat, and he is Scotland's most exciting talent in a period where there are a few youngsters coming through. Bennett is likely to partner Matt Scott in Scotland's new look young backline this November. Jonny Gray and Chris Fusaro are two forwards that have big potentials, but with Jim Hamilton, Richie Gray and Ali Kellock ahead of Gray, and Denton, Barclay, Harley, Beattie and Brown ahead of Fusaro, Bennett is the player most likely to begin to show the watching world his talent.
2. Santiago Cordero (Argentina)
20 year old Pablo Matera made his Argentinian debut in this year's Rugby Championship and was one of the team's shining lights and looks set to take Europe by storm. This November it could be the turn of another Argentine magician. Santiago Cordero has been one of the highlights of the JWC for the past two years. An eye for space, and dazzling footwork, Cordero looks set to torment Italy
3. Camille Lopez (France)
France haven't had a world class outhalf since Christophe Lamaison. This hasn't necessarily been a problem, given France's history of using scrumhalves to dictate a game, and their bizarre non-selection of Francois Trinh-Duc, yet Camille Lopez seems to have been developing nicely in Perpignan and looks sets to be the French outhalf for the next few years. At 24 years old, he is 5 years younger than the only other outhalf in the squad Remi Tailles, who is himself also rather inexperienced.
4. Jack McGrath (Ireland)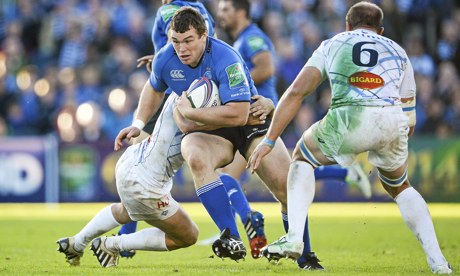 Jack McGrath on the rampage. Photograph: Brendan Moran/Sportsfile/Corbis
Is it surprising that the only forward on this list has no highlight video on youtube? But you can bet it's only a matter of time before this rampaging forward gets his own tribute video of some big hits, strong carries, great finishes and demolishing scrums. With Dave Kilcoyne not in the Irish squad, McGrath has turned into the favourite to be backup to Cian Healy at loosehead, and with Joe Schmidt this means that McGrath will be getting at least 20 minutes against some top scrummaging foes in Samoa (Census and James Johnston) or New Zealand. That he wasn't released back to Leinster this weekend is a good sign that McGrath will make his debut this November.
5. Charles Piutau (New Zealand)
New Zealand are very particular in developing their players for international selection, with most getting their first significant bit of game time on their northern tours. Charles Piutau has honed his skills for the New Zealand Sevens, and subsequently shone for the Blues from full-back. Like so many before him, he is a special player that the crowd audibly gets excited whenever he gets the ball. His pace and skill were a big reason why the Blues had such a good year last season.
Since then, a man named Israel Dagg has stood in his way in the national side, with Piutau making substitute appearances, usually on the wing. This is very similiar to how Israel Dagg was introduced to the national set-up with Mils Muliania in the way. Piutau starts on the wing this weekend, and this won't be his last start of November. I'm expecting him to shine both from full back, and from the wing.
6. Marland Yarde (England)
Every week another English superstar reveals itself. According to the English media and Sky anyway. What makes Marland Yarde so different? Well, Heir apparents as announced by those inflicted with Sky-itis don't always make their national side. Usually the English selectors have better sense and allow them to flop in the Premiership first. But this apparent superstars definitely don't make the English side this quickly. Especially when former "heir apparents" like Charlie Sharples and Christian Wade are still waiting for their turn.
What is clear, is that Yarde is a big strong powerful runner, who is extremely difficult to put down, and he uses his pumping legs to consistently get over the gain line. He's also got a bit of pace, but seems to have defensive deficiencies which even the crowd at Sky are worried about. Maybe this heralded "next England hope" will have a chance to shine.